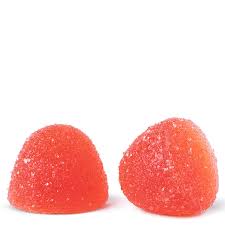 Delta 8 THC Gummies deliver a potent uplifting, motivating, and euphoric feel with a calming body sensation. These gummies come in packs of eight, which includes a total of 300 mg Δ8 THC.
These Delta 8 THC Gummies are 100% extracted and derived from legal hemp, and do not contain more than 0.3% delta 9 THC. Thus, they are in full compliance with federal and state laws according to the 2018 Farm Bill Act.
(Learn more about the legality of Δ8 THC)
These gummies and their metabolites may trigger a positive urinalysis. Therefore, you should avoid them if you need to pass a drug test. It is up to the consumer to research any local laws that conflict with the 2018 Farm Bill Act. Thus, the purchaser assumes full responsibility for all parts pertaining to your purchase. Burman's Health Shop and the products sold through this website do not intend to diagnose, treat, cure, or prevent any diseases, conditions or any other ailment.
10 Gummies per pack 25mg per gummy