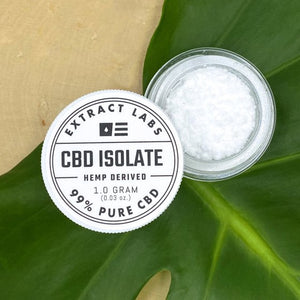 Our award-winning CBD Isolate is a great way to incorporate plant-based wellness into a nice cup of tea, a salad dressing, or a pre-workout protein shake. CBD isolate is an easy way to augment your current routine!
Extract Labs' CBD Isolate is pure cannabidiol in crystalline powder form. Isolate is great to work with as an ingredient. Whether you are creating a custom formulated topical or just adding a touch of wellness to your morning coffee, CBD Isolate makes for a quick an easy boost. Extract Labs CBD Isolate won Best Isolate from Grow Hemp Colorado's Consumer Choice Awards. Extracted in Boulder, Colorado from American Hemp.
Available sizes: 1 Gram (0.03oz)
Potency: 1000mg CBD/g
Ingredients: Pure CBD Isolate
Isolate is one of the most versatile products on the market. Isolate can be ingested directly, vaped, or sprinkled into food and beverages. It can also be added into your favorite topical product, such as lotions or creams, to give some added benefits. There isn't much it can't be used for!
The recommend dose of isolate is 33mg, which is an amount about the size of a grain of rice. Isolate is very concentrated, so a little bit will go a long way!